Introduction to Big Bear, California
Nestled amidst the picturesque San Bernardino Mountains of Southern California, Big Bear is a hidden gem that offers a plethora of exciting adventures for nature lovers and outdoor enthusiasts. This charming mountain town is renowned for its stunning natural beauty, crystal-clear lake, and year-round recreational opportunities. Whether you're seeking thrilling outdoor activities or simply looking to unwind in a tranquil setting, Big Bear has something to offer for everyone.
Top 10 Things To Do in Big Bear California
Big Bear is a natural wonderland that offers a plethora of outdoor activities for visitors to enjoy. From snowboarding and skiing to mountain biking and hiking, this Southern California destination is a must-visit for adventure seekers. Located within driving distance from Phoenix, Arizona and Las Vegas, Nevada, Big Bear attracts visitors from all over the country who come to experience its breathtaking scenery and natural beauty.
In addition to its outdoor recreational activities, Big Bear also boasts a vibrant shopping and dining scene, making it the perfect destination for those looking for a more relaxed trip. Whether you're looking for photo opportunities or simply want to take in the stunning views, Big Bear has something for everyone.
To help you make the most of your trip, we've put together a list of the top things you won't want to miss during your visit to Big Bear. So pack your bags and get ready to experience all that this remarkable natural hotspot has to offer!
1-

GO SNOW TUBING AT BIG BEAR SNOW PLAY

– Winter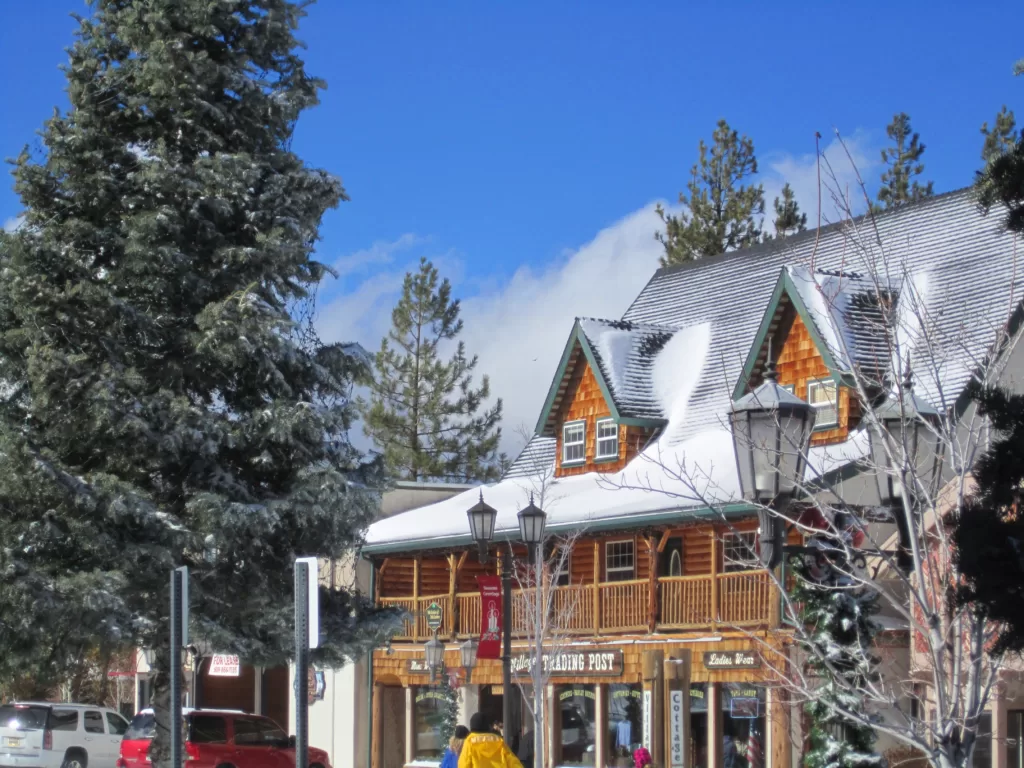 Big Bear Snow Play, located at 42825 Big Bear Blvd, Big Bear Lake, CA 92315, is the ultimate destination for light-hearted, snow-filled fun for all ages. Whether you're seeking a thrilling snow tubing experience or simply want to soak in the beautiful scenery, this is the place to be.
At Big Bear Snow Play, you can enjoy the excitement of snow tubing on both natural and man-made snow. Hop on the convenient magic carpet that will effortlessly transport you to the top of the hill for an enchanting wintry snow ride.
During the day, you can marvel at the breathtaking views while zooming down the slopes on your tube. And if you're looking for a unique and futuristic experience, visit during the night when the entire area lights up, transforming your snow tubing adventure into a mesmerizing glow tubing experience.
Big Bear Snow Play truly allows you to immerse yourself in the beauty of Big Bear while indulging in thrilling adventures. So, gather your friends and family and head over to Big Bear Snow Play for an unforgettable day of fun and excitement.
2- VISIT THE ALPINE SLIDE AT MAGIC MOUNTAIN – Winter
The Alpine Slide at Magic Mountain is a must-visit spot in Big Bear. It offers a thrilling bobsled ride, making it the perfect destination for families looking for year-round fun.
To start your adventure, hop on a scenic chairlift that will take you to the top of the mountain. From there, get ready for an exhilarating trip down the winding track, where you have full control over your speed.
But that's not all! Big Bear's Magic Mountain has plenty of other exciting activities to offer. You can enjoy the Mineshaft Coaster, a year-round coaster that is the only one of its kind in California. If you're up for some friendly competition, try your hand at mini golf or go-karting.
Make sure to mark your calendars and head over to the Alpine Slide at Magic Mountain, located at 800 Wildrose Lane, Big Bear Lake, CA 92315. It's an iconic destination that promises endless fun for the whole family.
3- TAKE A HIKE AT ALPINE PEDAL PATH – Winter
Experience the natural beauty of Big Bear through the Alpine Pedal Path, where you can witness breathtaking winter views and wildlife. During late November to early April, the impressive bald eagle population can be spotted in the area. The trail is conveniently paved and located on the north shore of Big Bear Lake, making it easily accessible for visitors even during winter. Don't forget to bring your Adventure Pass to park by the Alpine Pedal Path. You can find it at 740 Stanfield Cutoff, Big Bear, CA 92314.
4-GO SKIING (OR SNOWBOARDING) AT BEAR MOUNTAIN SKI RESORT – Winter
Bear Mountain Ski Resort, located at 43101 Goldmine Dr, Big Bear Lake, CA 92315, is the ultimate winter destination for skiing and snowboarding enthusiasts. It is widely regarded as the mecca of Southern California's winter recreational scene.
With over 700 acres (283ha) of winter terrain, Bear Mountain Ski Resort offers an exhilarating experience for visitors of all skill levels. Whether you're a seasoned pro or a beginner, you'll find a variety of lifts and trails to suit your preferences.
When it comes to pricing, Bear Mountain Ski Resort offers flexibility. Depending on your age, prices range from $60 to $150. Additionally, the resort provides multiple options for renting equipment and booking lessons, making it convenient for beginners to get started.
If you're looking for the best winter fun in the area, don't miss out on the opportunity to visit Bear Mountain Ski Resort. It promises an unforgettable experience that will leave you craving for more. So, make sure to include a trip to this exciting spot on your next mountain adventure.
5- TRY OUT SNOWSHOEING AT BIG BEAR DISCOVERY CENTER – Winter
To fully experience the picturesque snowy scenery of Big Bear, nothing beats a classic snowshoeing adventure.
For a range of expert-led snowshoe tours that will lead you and your companions further into the heart of nature, make sure to visit the Big Bear Discovery Center!
Remember, reservations are a must, and don't forget to bring along a thermos filled with coffee or hot chocolate to keep you energized throughout your trek.
You can find the Big Bear Discovery Center located at 40971 North Shore Dr/Highway 38, Fawnskin, CA 92333.
6- SOAK IN LAKESIDE BEAUTY AT BIG BEAR MARINA – Summer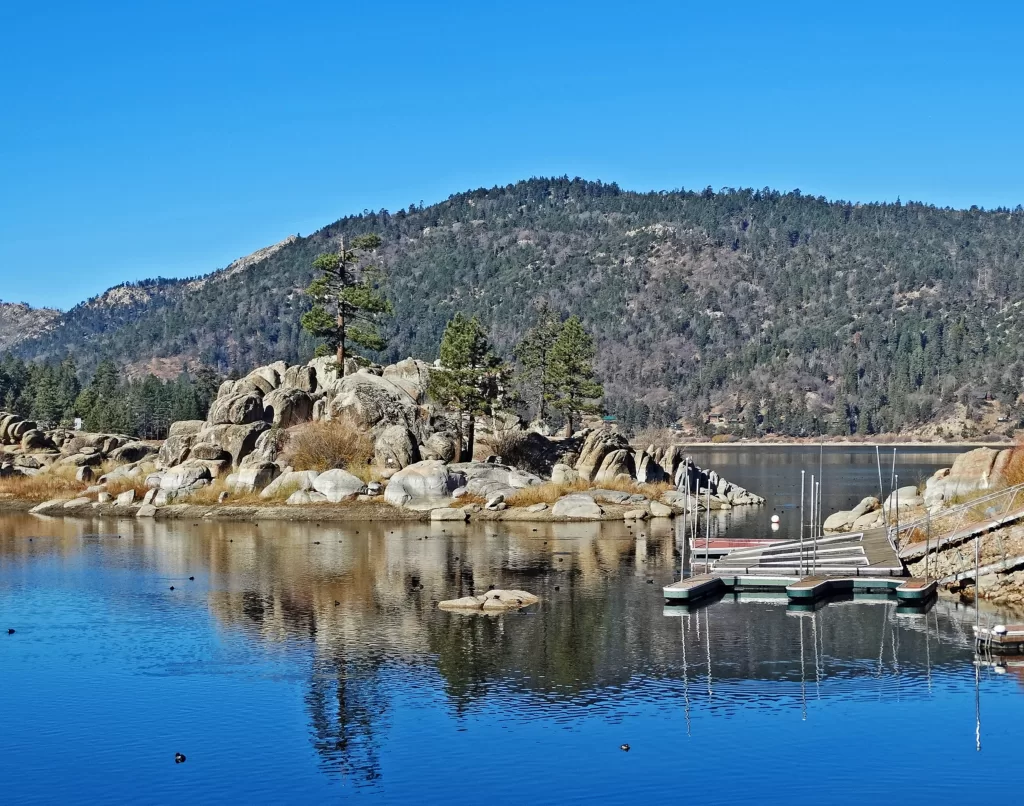 Visitors seeking an unforgettable summer experience in Big Bear should definitely make a stop at Big Bear Marina.
At Big Bear Marina, you'll find a wide range of exciting water activities to enjoy, from thrilling watersports to convenient boat rentals and even paddleboarding.
Whether you're in the mood for a relaxing day on the water, trying your luck at fishing, or craving the adrenaline rush of water skiing, Big Bear Marina has got you covered.
When it comes to beating the summer heat, there's no better place to be than on the water, and Big Bear Marina is here to ensure you have everything you need for a fantastic time.
You can find Big Bear Marina conveniently located at 500 Paine Ct, Big Bear Lake, CA, 92315.
7- PAN FOR GOLD – Summer
Big Bear, located in Southern California, is not just a stunning destination for nature lovers. It also holds a significant place in California's history. In fact, it played a pivotal role in the gold rush that took place in the area back in 1860.
If you're interested in paying tribute to the land's rich history, a visit to Gold Rush Mining Adventures is a must. This interactive gold-panning attraction offers a fantastic experience for the entire family. You can try your hand at panning for gold and other minerals or opt for a guided tour to delve deeper into the historical background of the area.
The packages available at Gold Rush Mining Adventures cater to different preferences and budgets. Prices range from $49 to $150, depending on the activity you choose and the duration of your visit. Whether you're looking for a quick adventure or a more immersive experience, there's something for everyone.
You can find Gold Rush Mining Adventures conveniently located at 40016 Big Bear Blvd, Big Bear Lake, CA 92315. So, why not embark on a journey through time and discover the fascinating history that Big Bear has to offer?
8- HIKE THE SCENIC CASTLE ROCK TRAIL – Summer
One of Big Bear's most popular hiking trails is Castle Rock Trail. This heavily-trafficked hike offers an impressive panoramic view of the surrounding scenery. With a round-trip distance of 2.7 miles (1 km), Castle Rock Trail is perfect for beginners looking for a shorter hike, while also appealing to more experienced hikers who appreciate the incredible views it provides.
As you embark on this picturesque hike, you'll be surrounded by tall evergreen trees and encounter massive rock formations along the way. From the top, you'll be treated to a breathtaking view of a gorgeous snow-fed lake.
Located at 38523 Big Bear Blvd, Big Bear Lake, CA 92315, Castle Rock Trail is a must-visit destination for nature enthusiasts and adventure seekers alike.
9- TRY OUT WAKEBOARDING WITH DESIGNATED WAKESPORTS – Summer
Designated Wakesports, established in 2004, has been providing exceptional watersports entertainment for years. With a diverse range of water-based activities, including tubing, water-skiing, and wakeboarding, they cater to all adventure seekers. Additionally, Designated Watersports offers classes and demonstrations during the spring and summer, perfect for those new to wake sports. If you're looking to experience the thrill and beauty of Big Bear firsthand, make your way to Designated Wakesports and discover the lake's untamed side. You can find them conveniently located at 603 Landlock Landing, Big Bear Lake, CA 92315.
10- TAKE A DAY TRIP TO DEEP CREEK HOT SPRINGS – Summer
Deep Creek Hot Springs is a natural oasis that's definitely worth a visit for those with an adventurous spirit. It's nestled along the Pacific Crest Trail, about 46 miles (74 km) from Big Bear, and can be accessed via various winding hiking trails. The most popular route is a 3.6 mile (5.7 km) out-and-back trail that takes you through desert foothills and deep into the San Bernardino National Forest. Once you arrive, you'll find geothermal pools, including a large pool for socializing and more secluded pools hidden in the shade of the lush willow trees. Best of all, it's free to the public! You can find Deep Creek Hot Springs at Pacific Crest Trail, Apple Valley, CA 92308.
Big Bear weather and the best time to visit
Before embarking on your Big Bear adventure, it's essential to understand the weather patterns and determine the best time to visit. Big Bear experiences a moderate mountain climate, with pleasant summers and snowy winters. The summer months, from June to August, are ideal for outdoor activities such as hiking, biking, and water sports, with average temperatures ranging from 70 to 80 degrees Fahrenheit. On the other hand, winter brings snow-covered landscapes, making it the perfect time for skiing, snowboarding, and enjoying the enchanting winter wonderland. The peak tourist season in Big Bear is during the summer and winter months, so plan your visit accordingly to avoid crowds and secure accommodations.
Things to do in Big Bear summer
Big Bear truly comes alive during the summer months, offering a wide array of activities to enjoy under the warm sun. One of the top attractions is Big Bear Lake, a sparkling oasis that invites visitors to indulge in various water sports. Rent a kayak or paddleboard to explore the calm waters, go fishing for trout, or take a leisurely boat tour to soak in the breathtaking scenery. If you prefer to stay on land, explore the miles of scenic hiking and biking trails that meander through the surrounding mountains. The Castle Rock Trail and Pine Knot Trail are popular choices, offering stunning views and opportunities to spot local wildlife.
For adrenaline junkies, Big Bear also boasts thrilling adventures such as ziplining, off-roading, and rock climbing. Soar through the treetops on a zipline tour, conquer rugged terrains on an off-road jeep excursion, or challenge yourself on the towering rock formations. With an abundance of outdoor activities, Big Bear is a paradise for adventure seekers.
Fun things to do in Big Bear
Beyond the outdoor adventures, Big Bear offers a myriad of other fun-filled activities for visitors of all ages. If you're seeking a dose of history and culture, pay a visit to the Big Bear Historical Museum, where you can learn about the area's rich heritage and pioneer days. Animal lovers will delight in the Big Bear Alpine Zoo, which houses a diverse range of rescued and rehabilitated animals, including majestic bears, wolves, and birds of prey. The zoo also offers educational programs and interactive exhibits for an immersive experience.
For a unique and exhilarating experience, take a helicopter tour over Big Bear to witness the awe-inspiring landscapes from above. Marvel at the panoramic views of the mountains, lake, and forests as you glide through the sky. If you're looking for a more relaxed activity, indulge in a round of golf at one of Big Bear's scenic golf courses or pamper yourself with a rejuvenating spa treatment at one of the local wellness centers. With such a wide range of activities, Big Bear ensures there's never a dull moment.
Hotels and accommodations in Big Bear
When it comes to accommodations, Big Bear offers a diverse range of options to suit every budget and preference. From cozy cabins and luxury resorts to lakeside lodges and charming bed and breakfasts, there's something for every traveler. If you're visiting during the peak season, it's advisable to book your accommodation well in advance to secure the best deals and availability.
Some popular choices include The Lodge at Big Bear Lake, a lakeside retreat with stunning views and modern amenities, and the Cozy Hollow Lodge, a family-friendly resort nestled in the heart of the mountains. Whether you prefer a rustic cabin in the woods or a contemporary hotel with all the comforts, Big Bear has the perfect lodging option for you.
Exploring the great outdoors: Top hiking and biking trails in Big Bear
Big Bear is a paradise for outdoor enthusiasts, boasting an extensive network of hiking and biking trails that showcase the region's natural beauty. Lace up your hiking boots and embark on an adventure through the striking landscapes of Big Bear. The Castle Rock Trail is a favorite among hikers, offering panoramic views of the lake and surrounding mountains.
For a more challenging trek, the Cougar Crest Trail rewards hikers with breathtaking vistas and encounters with local wildlife. Mountain bikers can also rejoice, as Big Bear features numerous trails catering to all skill levels. The Skyline Trail is a popular choice for bikers, offering a thrilling ride with stunning views of the valley below. Whether you prefer a leisurely stroll or an adrenaline-pumping bike ride, Big Bear's trails are sure to leave you in awe of nature's wonders.
Water activities: Boating, fishing, and kayaking in Big Bear Lake
No visit to Big Bear is complete without exploring the sparkling waters of Big Bear Lake. The lake offers a plethora of water activities for visitors to enjoy. Rent a boat and cruise along the pristine waters, basking in the serenity of the surroundings. Fishing enthusiasts will find their paradise in Big Bear, as the lake is teeming with various fish species, including trout, bass, and catfish.
Cast your line and experience the thrill of reeling in a big catch. If you prefer a more tranquil water adventure, opt for kayaking or paddleboarding. Glide across the calm lake, taking in the stunning views of the mountains and observing the abundant wildlife that call Big Bear Lake home. With endless options for water fun, Big Bear is truly a haven for aquatic enthusiasts.
Winter wonderland: Skiing and snowboarding in Big Bear
When winter blankets the mountains in a glistening layer of snow, Big Bear transforms into a winter wonderland, attracting snow sports enthusiasts from far and wide. With two premier ski resorts, Snow Summit and Bear Mountain, Big Bear offers exceptional skiing and snowboarding opportunities for all skill levels. Hit the slopes and carve your way through the fresh powder, experiencing the thrill of gliding down the mountainside. Both resorts feature well-groomed runs, state-of-the-art facilities, and professional instructors, ensuring a memorable winter sports experience. Whether you're a seasoned pro or a beginner eager to learn, Big Bear's ski resorts provide the perfect setting for endless snowy adventures.
Camping and RV parks in Big Bear
For those seeking a closer connection to nature, camping in Big Bear is a must. The region offers a range of camping options, from traditional tent camping to RV parks equipped with modern amenities. Serrano Campground and Hanna Flat Campground are popular choices for tent camping, nestled amidst the towering pines and offering a serene camping experience. RV enthusiasts can find solace in picturesque RV parks such as Big Bear Shores RV Resort and Pine Tree RV Park, which provide spacious sites, full hookups, and convenient access to outdoor activities. Wake up to the crisp mountain air, surrounded by nature's beauty, and create lasting memories around a crackling campfire.
Family-friendly activities in Big Bear
Big Bear is the ideal destination for a family vacation, offering a plethora of activities that cater to all ages. The Alpine Slide at Magic Mountain is a beloved attraction, featuring thrilling toboggan rides down a winding track. Kids will also enjoy exploring the Big Bear Discovery Center, where they can learn about the local flora and fauna through interactive exhibits and guided nature walks. For a unique experience, hop aboard the Big Bear Valley Historical Society's Time Traveling Trolley, which takes visitors on an informative tour of the area's history. Families can also engage in miniature golf, go-kart racing, and horseback riding, ensuring that there's never a dull moment in Big Bear.
Shopping and dining in Big Bear Village
After a day of adventure, take a stroll through Big Bear Village, a charming downtown area dotted with boutiques, galleries, and restaurants. Discover unique treasures and souvenirs as you browse through the eclectic shops, offering everything from handmade crafts to outdoor gear. Indulge your taste buds in Big Bear's diverse culinary scene, which boasts a range of dining options to suit every palate. From cozy mountain cafes serving hearty comfort food to upscale restaurants offering gourmet cuisine, Big Bear's dining establishments are sure to satisfy even the most discerning food lovers. After a delightful meal, unwind with a cup of coffee or a glass of locally crafted beer at one of the village's cozy cafes or breweries.
Things to do in Big Bear at night
As the sun sets over the mountains, Big Bear continues to charm visitors with its vibrant nightlife. The village comes alive with live music performances, comedy shows, and dancing, ensuring an entertaining evening for all. Catch a live band at one of the local bars or enjoy a theatrical production at the Big Bear Performing Arts Center. For a unique experience, embark on a guided night-time kayak tour on Big Bear Lake, where you can witness the starry sky and the lake's shimmering waters illuminated by moonlight. After an exhilarating night out, retreat to the comfort of your accommodation and prepare for another day of adventure in Big Bear.
Should You Rent A Car?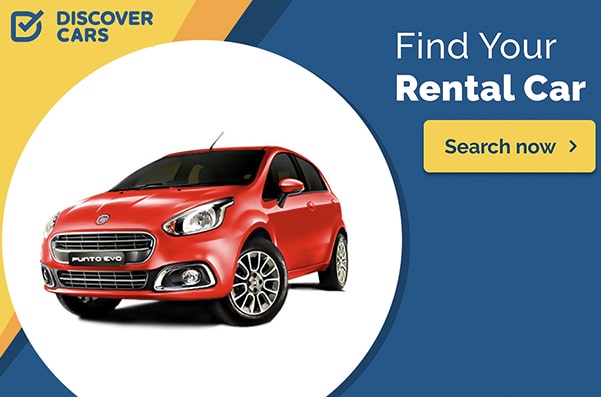 Yes, you should rent a car. especially if you are flying in or really just want to surprise that special someone. Renting a car is an excellent option for getting around the state and exploring its many natural wonders.
Tip: Can be expensive-check out our partners at Discovercars.com for the best deals.
Where to find the best deals on flights and hotels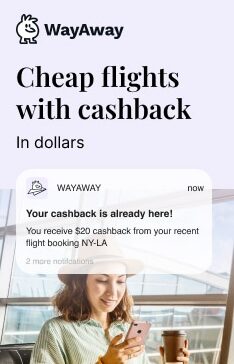 Finding the best deals on flights and hotels can be a challenge. Luckily, we have you covered!
Many travel websites offer discounted rates on flights and hotels, so check out these sites if you're looking for something specific in Washington state or just want an idea of what's available. 
Our top two picks are as follow…
Expedia: Well known for having good deals
Conclusion: Plan your adventure in Big Bear
With its breathtaking natural beauty, abundance of outdoor activities, and charming mountain town atmosphere, Big Bear is a destination that should be on every traveler's bucket list. Whether you're seeking adrenaline-pumping adventures, a serene escape in nature, or a fun-filled family vacation, Big Bear has it all. Plan your adventure today and immerse yourself in the wonders of this California gem. Book your accommodations, pack your bags, and get ready to create unforgettable memories in Big Bear. Your adventure awaits!
Other Dream Vacations: 
Check out the best Airlines to fly here to make your dream vacation go smoothly…