Tampa, Florida is a vibrant and diverse city located on the west coast of Florida. From its rich history and cultural influences to its lively nightlife and beautiful natural surroundings, Tampa has something for everyone. Whether you're interested in history, art, nature, or sports, there are plenty of things to see and do in this dynamic city. Here is our list of the top 10 things to do in Tampa, Florida- You will want to check them all out. 
Top 10 Thing To Do In Tampa Florida!
1. Visit the Tampa Bay History Center
Located in the heart of downtown Tampa, the Tampa Bay History Center is a must-see for anyone interested in the rich history of the region. The museum offers interactive exhibits, artifacts, and multimedia displays that explore the diverse cultures and influences that have shaped Tampa Bay. Visitors can learn about the indigenous people who first inhabited the area, the early Spanish explorers who arrived in the 1500s, and the development of Tampa Bay into the modern-day city it is today.
2. Explore Ybor City
Located just northeast of downtown Tampa, Ybor City is a historic neighborhood known for its lively nightlife, Cuban-influenced cuisine, and colorful streets lined with vintage brick buildings. The neighborhood is home to several popular restaurants, bars, and shops, as well as the Ybor City Museum State Park, which offers a glimpse into the area's history as a major cigar-manufacturing center.
Visitors can take a self-guided tour of the historic district, visit the museum to learn more about Ybor City's history, or simply stroll through the streets and soak up the vibrant atmosphere. It is definitely a part of Tampa that you do not want to miss!
3. Take a stroll through the Tampa Riverwalk
The Tampa Riverwalk is a 2.4-mile pedestrian path that winds along the Hillsborough River, offering beautiful views of the water and the city skyline. A popular spot at night due to the lights that come on along the pathway for some breathtaking views.
Along the way, you'll find a variety of restaurants, parks, and other attractions, including the Tampa Bay History Center and the Florida Aquarium. The Riverwalk is a great place to take a leisurely walk, bike ride, or rollerblade, or to simply sit and relax and enjoy the scenery.
4. Visit the Florida Aquarium
Located in the Channel District of downtown Tampa, the Florida Aquarium is home to more than 20,000 aquatic plants and animals, including sharks, rays, otters, and alligators. The aquarium offers a variety of interactive exhibits and experiences, such as a simulated dive with sharks and a behind-the-scenes tour of the animal care center.
Visitors can also take a stroll through the outdoor nature trail, where they can see a variety of Florida wildlife up close. One of the best Aquarium's in the USA.
5. Check out the Tampa Museum of Art
Located in downtown Tampa, the Tampa Museum of Art showcases contemporary and modern art from around the world, as well as rotating exhibitions of works by local artists. The museum is also home to a sculpture garden and a popular restaurant with outdoor seating. Visitors can explore the museum's permanent collection or check out one of the many special exhibitions on display.
6. Spend a day at Busch Gardens Tampa Bay
Located just outside of Tampa, Busch Gardens Tampa Bay is a popular theme park that offers thrill rides, live entertainment, and the chance to see exotic animals up close. The park is home to many animal habitats, including a flamingo pond and a savannah where you can see giraffes, zebras, and other African wildlife. In addition to the rides and animal exhibits, Busch Gardens also offers a variety of dining options and live performances.
This is the place to go for a day trip, sit back and relax with some music, or for the thrill seekers jump on one of the many rollercoasters.
7. Go on a brewery tour

Tampa has a thriving craft beer scene, with numerous breweries offering tours and tastings. Some popular options include Cigar City Brewing, Coppertail Brewing Co., and 7venth Sun Brewery. Visitors can take a tour of the breweries to learn about the brewing process and taste a variety of beers, ranging from traditional styles to experimental brews.
8. Take a walk through the Tampa Bay Preserve
The Tampa Bay Preserve is a protected natural area located just outside of Tampa that is home to a variety of plant and animal species. The preserve offers hiking and biking trails, as well as opportunities for birdwatching and fishing. Visitors can explore the preserve's ecosystems, which include pine Flatwoods, mangrove forests, and salt marshes, and see a variety of wildlife, such as alligators, turtles, and over 200 species of birds.
9. Visit the University of Tampa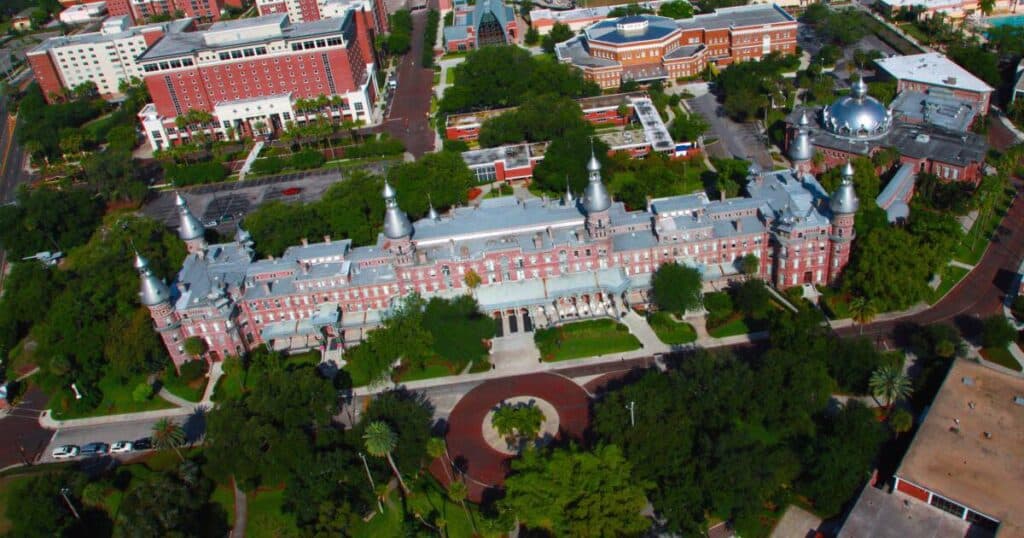 Located on the east side of the Hillsborough River, the University of Tampa is a beautiful campus that is home to several historical buildings, including a castle-like structure that dates back to the early 1900s. The campus also offers a number of cultural and recreational activities, including art exhibits, concerts, and sporting events.
Visitors can take a self-guided tour of the campus, attend a performance or event, or simply enjoy the peaceful and picturesque surroundings. Also, a popular spot if you are into photography-Many professional photos are taken here with the beautiful campus as the background.
10. Go to a Tampa Bay Buccaneers game
Raymond James Stadium, located just outside of Tampa, is home to the Tampa Bay Buccaneers, a professional football team that competes in the National Football League (NFL). Attending a Buccaneers game is a great way to experience the excitement of live football and get a taste of Tampa's sports culture. The stadium offers a variety of seating options, from club-level suites to general admission, as well as a variety of food and beverage options.
Whether you're a die-hard football fan or just looking for a fun outing, a Buccaneers game is sure to be a memorable experience. If you are planning to go to a game, you will need to plan ahead. Bucs fans are serious and the stadium gets pretty full. Get the best ticket deals here! So, you can have more cash in your hand to explore the rest of Tampa. 
Top 10 Things To Do In Tampa Wrap-Up
Tampa, Florida is a city that has it all – history, culture, natural beauty, and endless entertainment options. From visiting the Tampa Bay History Center and exploring Ybor City's vibrant streets to taking a walk along the Tampa Riverwalk and visiting the Florida Aquarium, there are countless ways to experience all that Tampa Bay has to offer. Whether you're a resident or a visitor, Tampa is a city that is sure to delight and surprise you with its many attractions.
So why wait? Start planning your trip to Tampa today and discover all the amazing things this city has to offer!
More dream vacations:
In the market for a flight? These seven airlines are some of the best options to consider.