Blue Ridge, Georgia is a charming mountain town located in the heart of the Blue Ridge Mountains. With its stunning natural beauty, small-town charm, and rich history and culture, Blue Ridge is a popular destination for tourists and locals alike. The town is known for its outdoor recreation, local art and craft scene, and delicious Southern cuisine. Whether you're looking for adventure, relaxation, or a bit of both, Blue Ridge has something for everyone. Let's go through the top 10 things to do in Blue Ridge Georgia.
Top 10 Things To Do in Blue Ridge Georgia
1. Take a scenic drive along the Blue Ridge Parkway
Offering stunning views of the mountains and forests. The parkway stretches for 469 miles through Virginia and North Carolina, with a section in Georgia that runs from milepost 217 to 305. Along the way, you can stop at overlooks to take in the views, or enjoy a variety of outdoor activities such as hiking, picnicking, and fishing. The parkway is also home to a variety of wildlife, including black bears, deer, and wild turkeys, so keep your eyes peeled for sightings! Get your camera ready because there will be several breathtaking photo opportunities.
2. Visit the Blue Ridge Scenic Railway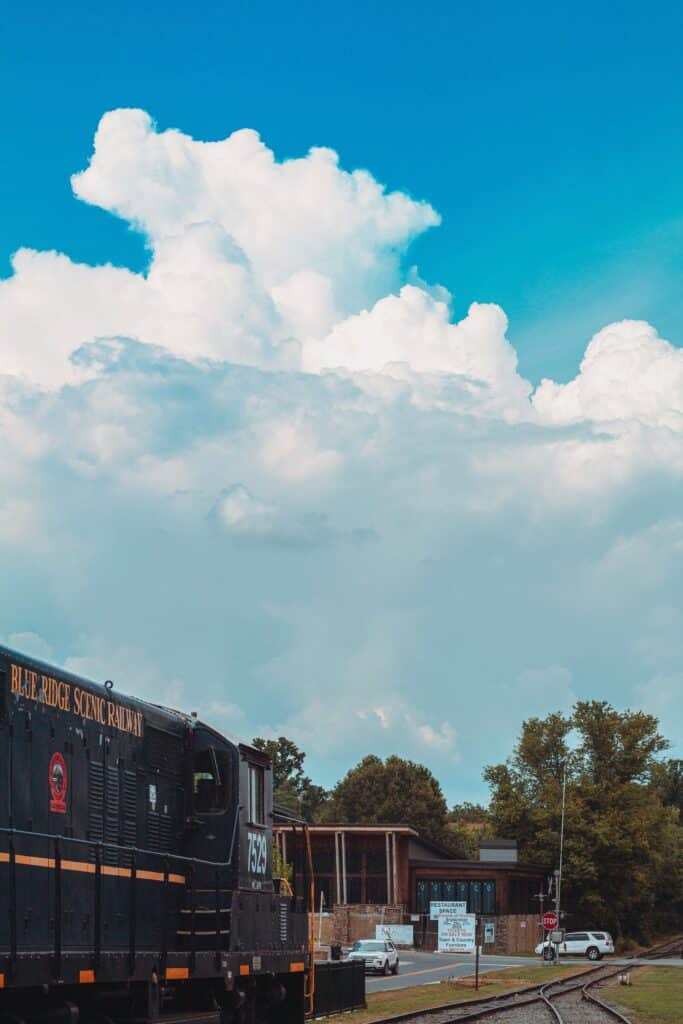 Scenic Railway in Blue Ridge offers a historic train ride through the North Georgia mountains. The journey takes you through the Toccoa River Valley, where you can see breathtaking views of the surrounding landscape. The train also makes a stop at the historic depot in the town of McCaysville, where you can get off and explore the shops and restaurants. The railway offers a variety of different rides, including the Toccoa Valley Excursion, the Summerville Steam Special, and the North Pole Adventure.
A must do adventure when heading to Blue Ridge-it's like taking a step back in time to see the beautiful landscape.
3. Go hiking in the Blue Ridge Mountains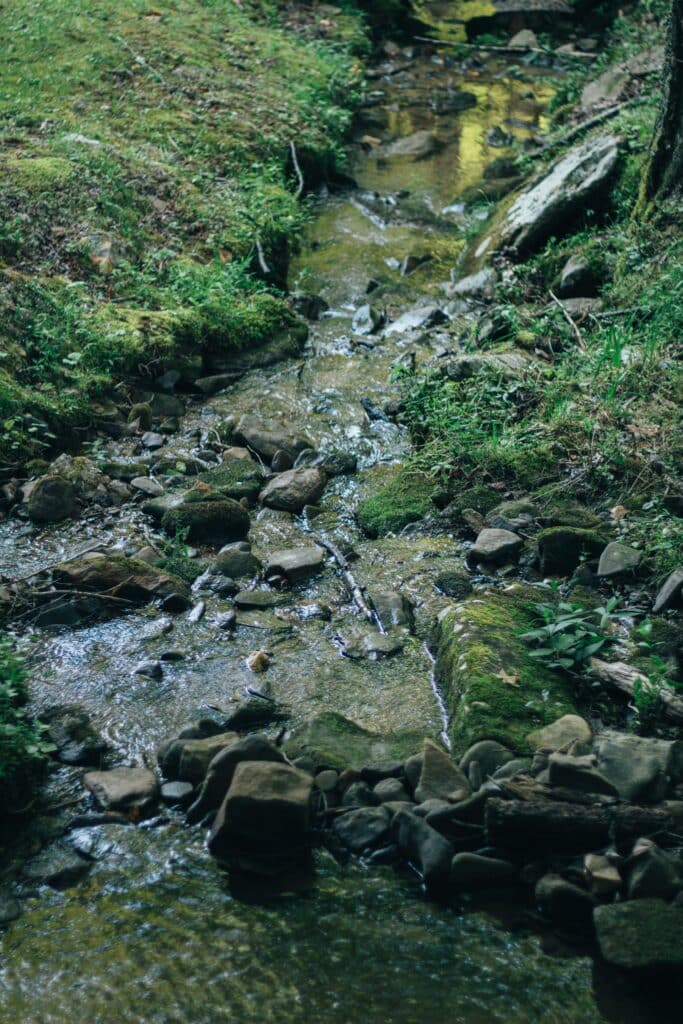 Hiking in Blue Ridge offer a variety of trails for all skill levels. The mountains are home to a number of popular trails, including the Appalachian Trail, the Benton MacKaye Trail, and the Aska Trail System. These trails allow travelers to explore the gorgeous wildness of the Blue Ridge Mountains, with options for hiking, backpacking, and even rock climbing. Don't forget your map of the trails systems either!
4. Visit the Mercier Orchards
Offering a variety of fresh fruits and vegetables, as well as a bakery and café. The orchards are a family-owned farm that has been in operation since 1943, and they offer a range of products including apples, peaches, nectarines, and berries, as well as jams, jellies, and cider. You can pick your own fruit during certain times of the year, or visit the farm market to purchase produce and other products made on the farm. This is what you call getting a taste of real Georgia!
5. Check out the Blue Ridge Dam and Lake Blue Ridge
Amazing opportunities for fishing, boating, and other water sports. The dam is a hydroelectric facility that was completed in 1930, and it impounds the Toccoa River to create Lake Blue Ridge. The lake is a popular destination for boating, fishing, and other water sports, with a marina that rents boats and kayaks, as well as several public boat ramps.
6. Explore the Blue Ridge Mountains Arts Association
This Arts Association features local art exhibits and classes. The association is a non-profit organization that promotes and supports the arts in the Blue Ridge area, and it hosts a variety of exhibits and classes featuring work by local and regional artists. You can visit the gallery to see the current exhibits, or sign up for a class to learn a new art form. check out some of the exhibits here.
7. Visit the Swan Drive-In Theater
Take a drive to the movies which offers a unique movie-watching experience. The drive-in is a classic drive-in movie theater located in Blue Ridge, and it features two screens and shows a variety of films, from new releases to classic movies. You can bring your own snacks or purchase them at the snack bar, and enjoy the movie from the comfort of your car. This is an experience that everyone should try; there are not that many drive-ins open anymore!
8. Horseback riding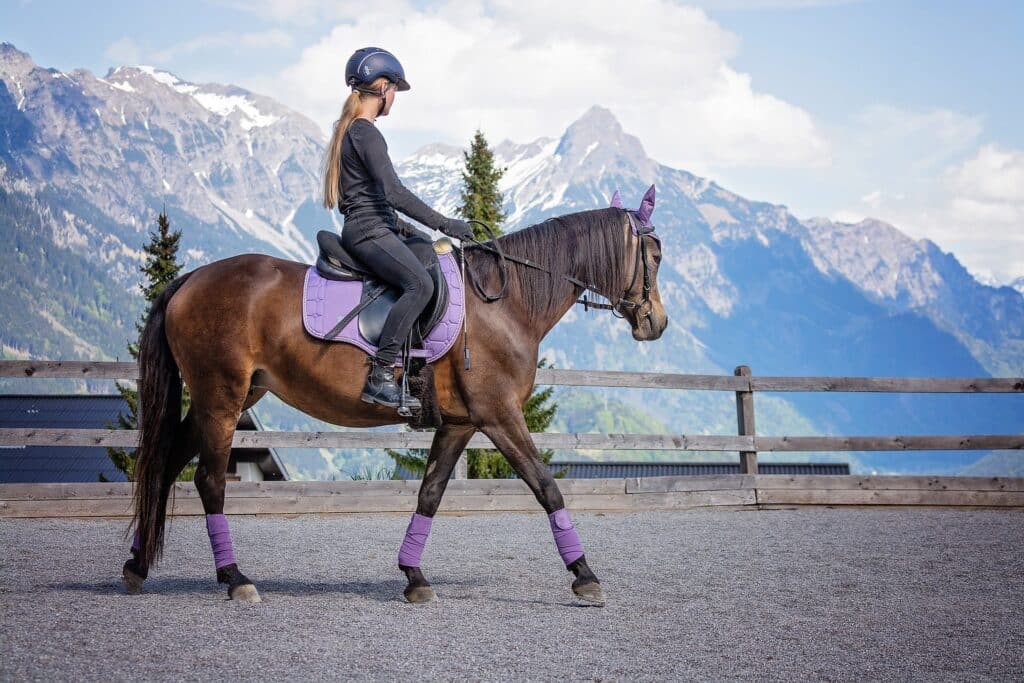 Go Horseback riding through the gorgeous North Georgia landscape. Several stables and guided tours are available in the Blue Ridge area, with trails that wind through the mountains and forests. Horseback riding is a great way to explore the region and take in the scenery, and it's suitable for riders of all skill levels.
9. Check out the Blue Ridge Mountain Food Tours
Offering guided tours of the local food and drink scene in the Blue Ridge area. The tours are a great way to learn about the history and culture of the region, and you'll get to visit a variety of restaurants, breweries, and other food-related businesses. You'll have the opportunity to try some of the local specialties, such as Georgia-style BBQ, craft beer, and apple cider, and you'll learn about the people and places behind the food.
10. Relax and unwind at one of the many spas or resorts in the Blue Ridge area
offering a variety of treatments and services such as massages, facials, and body wraps. You can choose from a range of options, including luxury resorts, rustic cabins, and cozy bed and breakfasts, and you can take part in activities such as yoga or meditation to help you relax and rejuvenate. The Blue Ridge area is known for its natural beauty and peaceful atmosphere, making it the perfect place to unwind and escape the stresses of daily life
Top 10 Things To Do in Blue Ridge Georgia Wrap-Up
If you're planning a trip to Blue Ridge, Georgia, be sure to check out our top ten things to do! From scenic drives and historic train rides, to hiking and horseback riding, there are plenty of adventures to be had in the beautiful Blue Ridge Mountains. And don't forget to visit the local farms, wineries, and restaurants to sample some of the delicious food and drink the area has to offer. With so much to see and do, Blue Ridge is the perfect destination for anyone looking to explore and experience all that the North Georgia mountains have to offer. So, come and discover the magic of Blue Ridge for yourself!
More dream vacations:
If trying to find the right flight, these seven companies are a good place to start your search