Looking for the ultimate Las Vegas vacation? Look no further! We've rounded up the top 10 things to do in Las Vegas, From world-class casinos and the finest performances to exploring the stunning outdoors and learning about the city's rich history, there's something for everyone.
Whether you enjoy gaming, live entertainment, or outdoor adventure, Las Vegas has something for you. Don't miss out on seeing the Hoover Dam, shopping at the Fashion Show Mall, going on a cuisine tour, or attending a pool party. Also, don't miss the Neon Museum and the Mob Museum to discover more about the city's history. Prepare for a once-in-a-lifetime trip to Las Vegas!
Discover The Top 10 Things To Do In Las Vegas: Casinos, Shows, Outdoor Adventures, and More
1. Visit The Casinos
Las Vegas is home to some of the world's most famous casinos, which are a must-see for every traveler to the city. Slot machines, video poker, and table games such as blackjack, roulette, and craps are all available at casinos.
Many casinos also have live entertainment such as concerts, performances, and stand-up comedy, as well as restaurants and shopping. You may spend a whole day in the casinos, playing games and enjoying the popular attractions.
2. See A Show
Las Vegas is well-known for its live entertainment, and there is always a diverse selection of acts to choose from. You may witness anything from high-energy Cirque du Soleil performances to concerts by top musicians, as well as magic shows, comedy acts, as well as other acts. Many of the hotels on the Las Vegas Strip feature theaters, so you can pick a performance that interests you.
3. Take A Tour Of The Hoover Dam
The Hoover Dam is a massive concrete dam located approximately 30 miles northwest of Las Vegas. It was created to regulate the flow of the Colorado River in the 1930s and today is a major tourist destination. You may visit the dam and explore the inside of the power plant, as well as learn about the dam's history and construction. There are a variety of tour options available, ranging from guided tours to self-directed audio tours, allowing you to choose the one that best suits your interests.
4. Explore The Red Rock Canyon National Conservation Area
This lovely natural region is roughly 20 miles from Las Vegas and provides a range of outdoor activities. Hiking, rock climbing, horseback riding, and picnics are all options, and there are various beautiful routes and viewpoints where you may take in the breathtaking scenery. The Red Rock Canyon National Conservation Area is home to a diverse range of plant and animal life, and you may spot bighorn sheep, reptiles, and birds during your visit.
5. Shop At The Fashion Show Mall
The Fashion Show Mall is one of the country's major shopping malls, with a diverse range of retailers. Everything from high-end designer goods to more budget-friendly retailers, as well as a range of food choices, can be found here. The mall also holds fashion shows and other events where you can see the newest trends. It's a fantastic spot to purchase some mementos or indulge in something unique.
6. Visit The Neon Museum
The Neon Museum preserves the history of Las Vegas' famous neon signs. You may take a tour of the museum and get up close and personal with some of the city's most iconic signs, including the famed "Welcome to Las Vegas" sign and others that were used to advertise hotels, casinos, and other businesses. The museum also houses a collection of historic neon signs and other relics relevant to Las Vegas's past. The guided tours are a terrific opportunity to learn about the city's history while also seeing some of its most recognizable landmarks.
7. Go On A Food Tour
Las Vegas has a wide variety of restaurants, and several companies offer food tours of the city. These excursions take you to some of the top restaurants in town and allow you to sample a wide range of foods, from fine dining to more informal alternatives. You'll be able to sample a range of cuisines and learn about the city's food culture from a local guide.
8. Take a Helicopter Tour
A helicopter tour is a terrific opportunity to explore the magnificent desert landscape that Las Vegas is known for. You can take a city tour and see the dazzling lights of the Las Vegas Strip from above, or you can fly out to the Grand Canyon for even more breathtaking sights. Helicopter excursions provide a unique view of the city and is an unforgettable experience.
9. Go to a pool party
Las Vegas is well-known for its lively pool parties, which are a fantastic way to beat the heat while still having a good time. During the summer, several of the city's hotels host pool parties, with tickets available at a variety of price ranges. These party's, which frequently include live DJs, games, and other activities, are a fun way to spend a sunny day in Las Vegas.
10. Visit The Mob Museum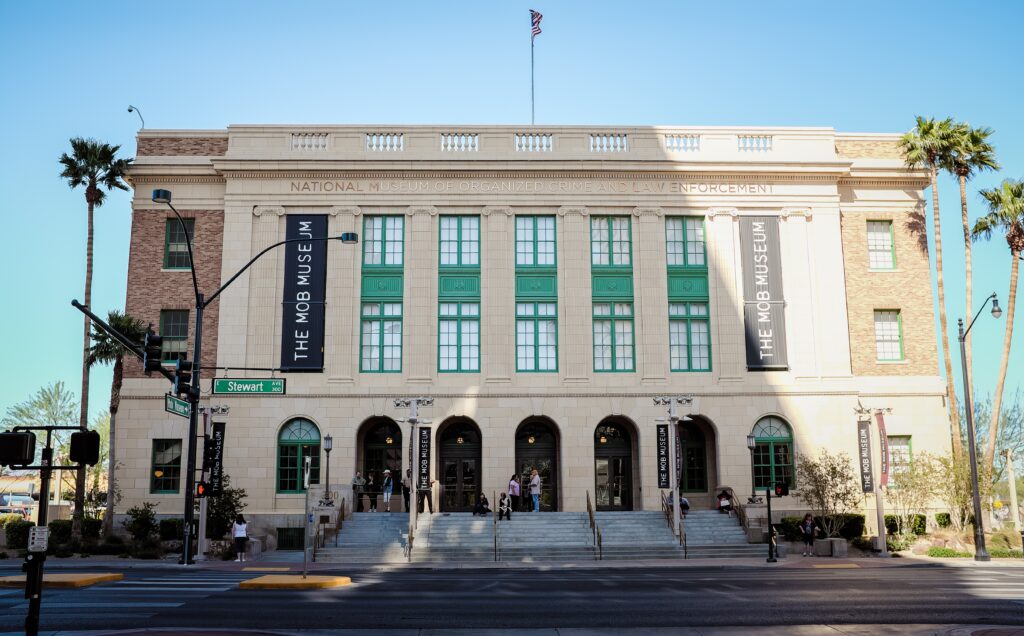 the Mob Museum is located in downtown Las Vegas and is dedicated to the history of organized crime in America. You can learn about the city's past as a hub for organized crime and see a variety of artifacts and exhibits, including weapons, photographs, and documents. The museum has interactive exhibits that allow you to learn about the history of the mob in a hands-on way, and you can even take part in simulated activities like cracking a safe. The Mob Museum is a fascinating look at a significant part of American history and is a must-see for anyone interested in crime and criminal justice.
Find Your Next Adventure: Our Top 10 Things To Do In Las Vegas
In conclusion, Las Vegas is a city that has something for everyone. From the bright lights and excitement of the casinos and shows, to the beautiful natural surroundings and rich history, there's always something to do in this vibrant city. Whether you're a fan of gaming, live entertainment, or outdoor adventure, you'll find plenty of things to keep you busy. So why wait? Start planning your trip to Las Vegas today and get ready to experience the vacation of a lifetime!
Family-Friendly Attractions
If you're looking for family-friendly attractions, Las Vegas has plenty of options. The Bellagio's Conservatory and Botanical Gardens is one of the most popular attractions in Las Vegas. It features over 1,200 plants from more than 50 countries displayed throughout the conservatory in different themes like "The Vase," "Chinese New Year" and my favorite, "Tropical Paradise."
There's also The Eiffel Tower Experience at Paris Las Vegas where visitors can climb up to the top of this replica of Paris' iconic landmark before taking in views of The Strip below while enjoying a 360-degree panoramic view from its observation deck.
The Fountains of Bellagio are another must-see attraction because they are so amazing! These dancing water fountains dance to music every half hour during spring and summer months (from April through October) at 3:00 pm daily except Mondays when they start at noon instead since it's too hot outside then anyway! I recommend sitting down somewhere close by so that you can listen closely and enjoy the show! 
Where To Stay
While there are plenty of hotels in Las Vegas, not all of them are worth your time or money. Some hotels have a better location than others and some have better amenities. If you're looking for the best overall value for your money, here is a list of the best hotels in Las Vegas:
The Cosmopolitan
Cosmopolitan is one of the newest hotels in Las Vegas and it has quickly become one of the most popular hotels on the strip. The hotel has 2,995 rooms, over 100 shops and restaurants, 4 pools, and a spa as well as other amenities that make it a great place to stay.
The Venetian
The Venetian is also one of the newer hotels in Las Vegas with 2,509 rooms and over 100 shops and restaurants. It also has 4 pools and spa facilities as well as many other amenities that make it an excellent choice for those looking for an upscale hotel experience while visiting Sin City.
Mandalay Bay Resort & Casino
Mandalay Bay Resort & Casino is another popular choice among tourists who visit Las Vegas because it features 3,328 rooms along with numerous dining options including Wolfgang Puck's restaurant collection which includes Wolfgang Puck Bar & Grill where guests can enjoy fine cuisine
The Luxor
The Luxor is one of the most popular hotels in Las Vegas because it is located on the South Strip, which means that it's close to all of the action without being too close. The Luxor also has some of the best rooms in town, with a sophisticated décor and unique features like a pyramid-shaped design and glass elevators that go up and down through the hotel's center.
How To Get Around
There are several ways to get around Las Vegas, but not all of them are created equal. If you're looking for a cheap way to get from Point A to Point B and back again, public transport is your best bet. The city has an extensive bus system that runs 24 hours a day and costs just $2 per ride (or $6 for an all-day pass). You can also rent bicycles at various locations throughout the city; these cost $3 per hour or $10 per day (which includes rental equipment).
If you want some freedom from schedules or just want something more comfortable than walking or biking around town, consider renting a car instead–but only if it fits within your budget! You can check out the best rental car deals here.
 With gas prices being what they are nowadays, most people prefer Uber/Lyft instead because these services offer cheaper fares than taxis do: One trip costs about $5-$7 plus tip depending on where your destination is located within Las Vegas proper.
Tips And Tricks
Here are some tips and tricks for getting the most out of your trip:
Plan ahead: The best way to save money in Las Vegas is by planning ahead. If you know what shows you want to see, where you want to eat, and what activities are at the top of your list, then finding deals will be much easier. You'll also be able to avoid tourist traps easily because you won't have any time pressure!

Check out Groupon: Groupon often has great deals on shows in Las Vegas (including Cirque du Soleil), so check there first if there's something specific that catches your eye.

Pack light: Bring only one backpack with roomy pockets (or two smaller bags) so that when it comes time for shopping or sightseeing around town; everything fits neatly into one place without taking up too much space in the car.

Get free stuff: Many hotels offer freebies like free drinks at bars/restaurants as well as free breakfast buffets–so check online before booking accommodations just in case there are any hidden perks!
What Day Trips Should You Take?
If you're looking for a day trip, there are plenty of options. There's no shortage of things to do in Las Vegas, but if you have time and want to explore beyond the city limits, here are some suggestions:
Grand Canyon National Park – The granddaddy of all-day trips! It's about 4 hours away by car and well worth it if you have time on your hands or don't mind driving long distances.

The Strip – You can take public transportation down here or even Uber if you don't want to deal with traffic jams (or parking) during peak hours. If this is your first visit, make sure not to miss out on seeing Caesar's Palace or Bellagio Fountains–they're both iconic sites that everyone should see at least once in their lifetime!
Other Dream Vacations: 
Check out the best Airlines to fly here to make your dream vacation go smoothly…