Introduction to Things to do in Page, Arizona
Page, Arizona, a small town nestled amidst stunning natural landscapes, is a hidden gem waiting to be explored. Situated in the northeastern part of the state, Page offers a multitude of breathtaking attractions that will leave visitors awe-inspired. From magnificent canyons to serene lakes, this enchanting destination has something for everyone.
Exploring the Natural Wonders of Page, Arizona
Page, Arizona, is renowned for its natural wonders that seem to defy imagination. As you embark on your journey through this remarkable region, prepare to be captivated by the awe-inspiring landscapes that await you.
One of the first stops on your adventure should be Horseshoe Bend. This natural marvel offers a panoramic view of the meandering Colorado River as it winds its way through a striking horseshoe-shaped bend. The vista is simply breathtaking, and it's no wonder that Horseshoe Bend is one of the most photographed locations in the entire United States.
Next on the list is Antelope Canyon, a slot canyon that will transport you to another world. The play of light and shadow on the curved walls creates a surreal experience that photographers and nature enthusiasts find irresistible. The swirling sandstone formations and vibrant colors make Antelope Canyon a must-visit destination for anyone visiting Page, Arizona.
Lake Powell is another natural wonder that beckons visitors with its serene beauty. This vast reservoir offers a multitude of recreational activities, including boating, fishing, and kayaking. With its crystal-clear waters and breathtaking red rock formations, Lake Powell is a paradise for water enthusiasts and nature lovers alike.
Top 10 Things to do in Page Arizona
1. Horseshoe Bend
Located in the Glen Canyon National Recreation Area, Horseshoe Bend offers a breathtaking and awe-inspiring sight. It is advised to stay behind the railing that surrounds a section of the bend for safety purposes. From this vantage point, one can still capture a stunning photograph. It is astonishing to witness the number of individuals venturing out to the edge, therefore it is crucial to exercise caution and ensure the safety of children by keeping them within sight and away from the precipice.
The view from Horseshoe Bend is truly remarkable, and it is recommended to visit during the middle of the day when the sun is positioned perfectly and shadows are minimal. This advice proved to be invaluable, enhancing our experience. For those seeking a different perspective, boat tours of Horseshoe Bend are available. The opportunity to embark on one of these tours and witness the bend from the water is truly extraordinary.
A conversation with a ranger at the Dam Visitor Center further reinforced the recommendation for this activity. Alternatively, an intriguing option for exploring Horseshoe Bend involves immersing oneself in the culture of the area by spending time with Navajo Native Americans. This unique experience offers the chance to savor traditional cuisine, witness Native American dancing, and forge a deeper connection with the local heritage.
As mentioned earlier, Horseshoe Bend is a must-see attraction. To truly appreciate its beauty, hike to the overlook and witness the awe-inspiring panorama that unfolds before your eyes. The sheer magnitude of the bend and the contrasting colors of the river and the surrounding cliffs will leave you in awe.
2. Antelope Canyon
When visiting Page, Arizona, it is highly recommended to take one of the guided Antelope Canyon tours. This stunning slot canyon is managed by Navajo Nation Parks and Recreation and offers an awe-inspiring sight. Our choice was the lower canyon tour, which commences at the guide station and descends to a set of stairs leading into the canyon.
The views are truly breathtaking, with an array of colors and light filtering through the canyon. The guide provides interesting stories and historical information about the canyon, and there are numerous opportunities for amazing photographs. Although the tour may be a bit expensive, it is definitely worth it. The hike is not too strenuous and proceeds at a leisurely pace. As long as you can manage the sometimes-steep stairs, you will thoroughly enjoy this unique and fascinating experience.
Antelope Canyon is a photographer's dream come true. The narrow, winding passages and the interplay of light and shadow create a surreal and ethereal atmosphere. Whether you're an avid photographer or simply someone who appreciates the beauty of nature, a visit to Antelope Canyon is an absolute must.
3. Lake Powell
The huge lake in the middle of the desert is a sight to behold, and Lake Powell in Arizona is one of the best. It is a must-visit attraction in Glen Canyon National Recreation Area, and we suggest dedicating an entire day to enjoy its beauty.
Although there are various paid water sport activities and rental options available, we chose to bring our own paddle-boards and kayaks to make the most of our day.
Apart from water activities, the beach sand is perfect for children to play in. We suggest visiting Lone Rock Beach for sand play.
For those seeking adventure on the water, Lake Powell offers endless opportunities. Rent a boat or kayak and explore the numerous coves and canyons that dot the lake's shoreline. Take a dip in the crystal-clear waters or simply relax on a sandy beach and soak in the breathtaking surroundings.
4. Glen Canyon Dam
A complimentary stop is always a delight, and that is precisely what you can experience at the Carl Hayden Visitor Center. Immerse yourself in the free museum, which offers a plethora of interactive exhibits that provide insight into the Dam. Younger visitors can participate in the Junior Ranger program, and the gift shop offers a variety of amusing souvenirs for those who enjoy shopping.
While you're there, take advantage of the opportunity to admire the breathtaking view of the dam and the Colorado River from the safety of the glass windows. Additionally, you can opt to pay for and register for a dam tour, which would be an excellent way to gain a deeper understanding of this iconic landmark.
A marvel of engineering, the Glen Canyon Dam is worth a visit. Take a guided tour to learn about the history and construction of this impressive structure. The views from the observation deck are stunning, offering a unique perspective of the surrounding landscape.
5. Rainbow Bridge National Monument
This remarkable rock formation in Page is an extraordinary attraction that has captivated people for centuries. It stands as one of the world's largest natural bridges, serving as a source of inspiration for many.
Although this NPS site is relatively small, it offers a wealth of opportunities for exploration, discovery, and education. Throughout the summer months, ranger programs are conducted to enlighten visitors about the bridge's historical significance. Additionally, a Junior Ranger program is available to engage children in learning. Notably, one of the viewing areas even features a dinosaur footprint!
It is important to mention that reaching this bridge necessitates a boat ride and a minimum one-mile hike. For those without their own boat, paid boat tours are conveniently available.
Rainbow Bridge National Monument is a natural wonder that should not be missed. This majestic stone arch is one of the largest of its kind in the world. Take a boat tour or hike to reach this awe-inspiring landmark and marvel at its sheer size and beauty.
Immerse yourself in the rich Native American culture at the Navajo Village Heritage Center. Learn about the traditions, history, and art of the Navajo people through interactive exhibits and demonstrations. This educational experience provides a fascinating insight into the region's indigenous heritage.
7. Balancing Rock
Just outside of Page, you'll find the intriguing Balancing Rock. This geological phenomenon features a large boulder precariously perched atop a narrow pedestal. Witnessing this natural wonder is a testament to the incredible forces of nature that have shaped the landscape over millions of years.
8. John Wesley Powell Museum
For history enthusiasts, a visit to the John Wesley Powell Museum is a must. Learn about the expeditions and discoveries of the famous explorer who led the first documented journey through the Grand Canyon. The museum showcases artifacts, photographs, and interactive exhibits that bring Powell's adventures to life.
9. Wahweap Marina
If you are seeking a more comfortable experience, Lake Powell Resort and Wahweap Marina could be an ideal choice for you. The resort provides well-appointed hotel rooms equipped with all the necessary amenities. Additionally, the marina offers the option of renting houseboats, while the RV park provides an excellent location for campers to park their rigs.
Located on the shores of Lake Powell, Wahweap Marina is a hub of activity and a gateway to endless adventures. Rent a boat or jet ski and explore the vast expanse of the lake, or simply relax and enjoy the stunning views. The marina also offers dining options, boat tours, and equipment rentals for a truly memorable experience.
10. Hanging Garden Trail
For nature lovers and hikers, the Hanging Garden Trail is a hidden gem. This moderate trail winds through colorful sandstone formations and leads to a lush oasis of hanging gardens. The trail is a feast for the senses, with vibrant wildflowers, towering cliffs, and the soothing sound of trickling water.
Unique Experiences in Page, Arizona
While the top 10 must-do activities in Page, Arizona, are undoubtedly breathtaking, there are also unique experiences that make this destination even more special. Consider embarking on a scenic flight over the Grand Canyon, where you'll witness the immense beauty of this natural wonder from a different perspective. Alternatively, join a guided photography tour to capture the stunning landscapes of Page and its surroundings. These experiences will provide memories that will last a lifetime.
Things to Do in Page, Arizona at Night
Even after the sun sets, Page, Arizona, continues to offer a plethora of activities. Take a nighttime boat tour on Lake Powell and witness the stars sparkling above the dark waters. The lack of light pollution in this remote location creates a mesmerizing stargazing experience. Alternatively, head to one of the local restaurants or bars and savor delicious cuisine while enjoying live music or entertainment.
Free Activities in Page, Arizona
Exploring Page, Arizona, doesn't have to break the bank. There are several free activities that allow you to fully immerse yourself in the natural beauty of the region. Take a leisurely stroll along the Rim Trail at Horseshoe Bend and marvel at the breathtaking views without spending a dime. Additionally, visit the Glen Canyon Dam Overlook for panoramic vistas of the dam and the surrounding landscape.
Planning Your Visit to Page, Arizona
When planning your visit to Page, Arizona, consider the time of year and the weather conditions. The summer months can be scorching, so be prepared with sunscreen, hats, and plenty of water. Spring and fall offer more moderate temperatures, making them ideal for outdoor activities. As for accommodations, there are various options available, ranging from luxurious resorts to budget-friendly hotels. Book in advance to secure the best deals and ensure a seamless stay.
Where to Stay in Page, Arizona
Page, Arizona, offers a range of accommodation options to suit every traveler's needs. Whether you're seeking a luxurious resort with stunning lake views or a cozy bed and breakfast nestled amidst the red rocks, there is something for everyone. Some popular options include Lake Powell Resort, Courtyard by Marriott, and The Bear's Den B&B.
Dining Options in Page, Arizona
After a day of exploring, satisfy your taste buds at one of Page's many dining establishments. From local Southwestern cuisine to international flavors, there is a diverse range of options to choose from. Try traditional Navajo dishes, savor fresh seafood, or indulge in a juicy steak. Some popular dining spots include Big John's Texas BBQ, Bonkers Restaurant, and The Blue Buddha Sushi Lounge.
Where to find the best deals on flights and hotels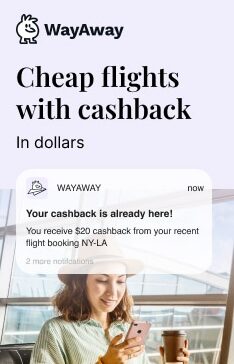 When it comes to uncovering exceptional deals on flights and accommodations, two noteworthy platforms take center stage: Expedia and Wayaway. Expedia has long been a trusted name in the travel industry, offering a vast array of options for flights, hotels, and vacation packages. With its intuitive interface and extensive search functionalities, Expedia simplifies the process of comparing and booking, making it a popular choice for those seeking convenience and affordability.
On the other hand, Wayaway offers a distinctive approach, focusing on immersive travel experiences and connecting adventurers with local experts. Wayaway not only provides excellent deals but also encourages travelers to step off the beaten path, fostering unique, authentic adventures. Whether you opt for the reliability of Expedia or the spirit of exploration offered by Wayaway, both platforms excel in helping you secure the finest deals for your flights and lodging, tailored to your individual travel preferences.
Our top two picks are as follow…
Conclusion
Page, Arizona, is a destination that should be on every traveler's bucket list. With its awe-inspiring natural wonders, unique experiences, and a range of activities to suit all interests, Page offers an unforgettable adventure. Whether you're exploring the iconic Horseshoe Bend, discovering the beauty of Antelope Canyon, or embarking on a scenic boat tour of Lake Powell, Page, Arizona, will leave you with memories that last a lifetime. So pack your bags and unlock the hidden gems of this remarkable destination!
Other Dream Vacations: 
Check out the best Airlines to fly here to make your dream vacation go smoothly…