There are many different types of vacations that you can take. Some people like to go on cruises and some people like to go on road trips. There is one type of vacation that seems to be very popular right now, however, and it's called an all inclusive vacation.
An all inclusive vacation is a way for you to travel somewhere without having to worry about where you will eat or how much money it will cost you per day. These types of vacations usually include your hotel stay along with meals (and sometimes even drinks).
All inclusive vacations are great because they allow travelers to relax knowing that they don't need any spending money while they're away from home! Here is a list of our top rated all inclusive vacation in United States…
1. Miraval Arizona
Miraval Arizona is a wellness resort, spa, and health retreat. It's located in Tucson, Arizona, and offers guests a luxury experience with an emphasis on healthy living. The resort has 101 acres of land that includes 15 miles of desert trails for hiking or horseback riding.
There are also two pools (one heated), tennis courts, basketball courts, and volleyball nets available for use during your stay.
The spa at this luxury resort in Tucson is one of the best in the country, with signature treatments like a local prickly pear scrub and antioxidant-rich red wine elixir. It's been ranked one of America's top 50 spas by Conde Nast Traveler every year since 2007!
Most people stay in Miraval Arizona because they want to learn more about healthy living so they can improve their lives at home after their vacation ends!
2. Cove Haven Resort in Lakeville, Pennsylvania
If you're looking for a relaxing getaway, Cove Haven Resort in Lakeville, Pennsylvania is the place to go. This resort is located on Lake Wallenpaupack and has everything you need for a fun-filled time with friends or family.
The resort has a pool and hot tub as well as activities like ping pong tables and boat rentals (at an additional cost). If you want to spend some time outdoors but don't feel like swimming in the lake, there are hiking trails nearby where you can explore nature while taking in some fresh air, it is truly tranquil. This resort can Sleep up to 10 people and has multiple pools!
This all inclusive vacation spot in the United States feels like a home away from home (but better), if that is what you are looking for then Cove Haven Resort on Lake Wallenpaupack in northeastern Pennsylvania is where you want to be.
This idyllic destination offers all kinds of fun activities such as horseback riding lessons or kayaking excursions–and when it comes time for dinner?
There are plenty of delicious options at their restaurants including sushi bar/steakhouse JB's Fish & Chips which serves up seafood favorites like crab cakes or lobster tails accompanied by potato chips made right there at the restaurant itself!
3. Tanque Verde Ranch in Tucson, Arizona
Tanque Verde Ranch is a luxury resort and spa located on the southern edge of the city of Tucson, Arizona. The resort was founded in 1882 by John Jay Bicknell and his wife Elizabeth Wilson Bicknell as an adobe hacienda on 30 acres south of town.
In 1910 it became an exclusive guest ranch with elegant guesthouses surrounding an outdoor pavilion known as "The Plaza", featuring fountains and gardens.
Tanque Verde Ranch offers guests many activities including horseback riding through scenic trails along with guided tours of local archaeological sites such as Tumacacori National Monument.
Boasting stunning views from both its main lodge building overlooking majestic mountains as well as individual cabins nestled among tall trees nearby where guests can relax after hiking trails or going on day trips around town exploring everything else Tucson has to offer.
Some examples of what Tucson has to offer are restaurants serving authentic Mexican food (like La Parrilla) or shops selling beautiful handmade jewelry pieces made locally using traditional techniques passed down through generations.
4. The Grand Hotel Mackinac Island in Mackinac Island, Michigan
Mackinac Island is a small island located on Lake Huron. It's only accessible by ferry or air, and it's known for its historic sites and charming Victorian architecture.
The Grand Hotel Mackinac Island is a luxury resort that offers guests a wide range of amenities, including fine dining, spa services, golfing, and more!
If you're looking to stay somewhere that has everything you need for your all inclusive vacation–and then some–this might be the place for you!
5. The C-Lazy-U Ranch in Colorado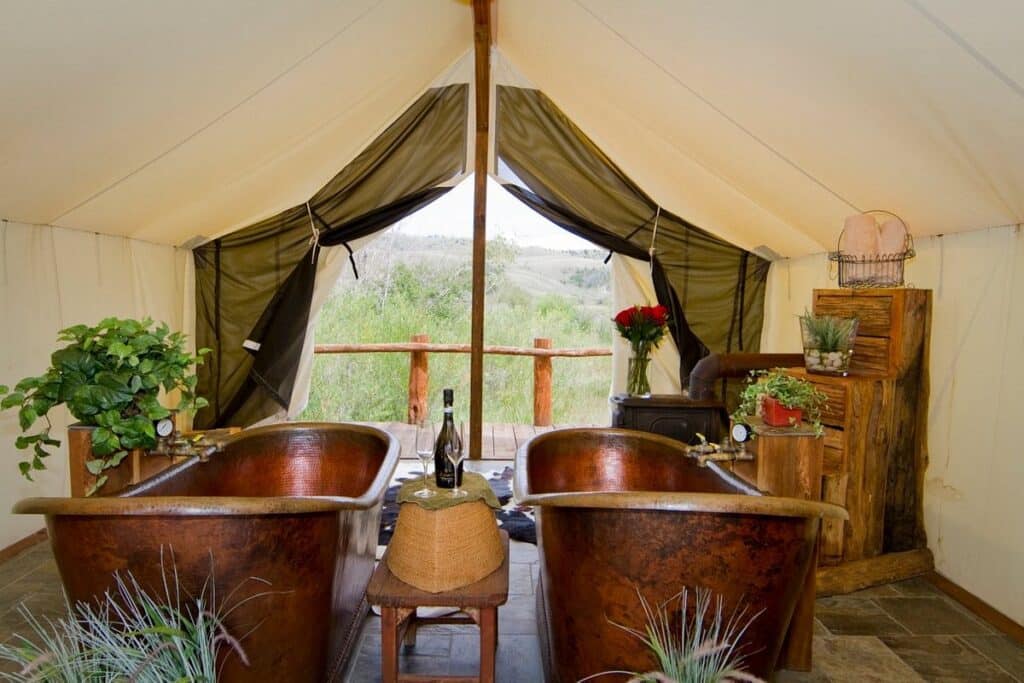 The C-Lazy-U Ranch in Colorado is the perfect place for a getaway with your family. The ranch is located in the Rocky Mountains, which means there are plenty of hiking trails nearby.
If you're looking for something more relaxing, you can go horseback riding or enjoy a massage at their spa.
The C-Lazy-U Ranch has been featured on several episodes of MTV's Teen Mom show because it's such an excellent location for families with children who want to have fun together without spending too much money on activities like skiing or snowboarding (which require equipment).
It's also near Aspen so if you want some nightlife after spending time at this all inclusive vacation spot during the day, there are plenty of places nearby where you can go out drinking and dancing, without the kids of course!
6. Pocono Palace Resort in Pennsylvania
If you're looking for a relaxing getaway, the Pocono Palace Resort is the place to go. Located in Pennsylvania, this resort offers all inclusive vacations that are perfect for families who want to spend some quality time together.
Pocono Palace Resort has several different accommodations available including villas and suites. You can also choose from a variety of dining options such as Miraval Cafe or The Restaurant at Pocono Palace Hotel & Suites which serves breakfast daily and dinner Thursday through Saturday nights.
7. The Lodge on Little St. Simons Island
The Lodge on Little St. Simons Island is a luxury resort located in Georgia. It has been rated as the best resort in Georgia by TripAdvisor and the Travel Channel, with an average rating of 4.5 stars out of 5 on their website.
The lodge has an onsite restaurant called the Oyster Bar that serves seafood specialties like crab cakes and shrimp scampi pasta with lemon garlic butter sauce.
They also have a spa and fitness center where you can get your workout on before relaxing with a massage or facial treatment at their spa treatment rooms!
8. The Fair Hills Resort
The Fair Hills Resort is a luxury all inclusive resort located in the Pocono Mountains of Pennsylvania.
The property is comprised of 1,000 acres of land and offers guests access to over 15 miles of hiking trails, horseback riding, canoeing, and kayaking on nearby lakes, as well as ice skating at the outdoor rink in winter months.
The Fair Hills Resort features 7 restaurants including an Italian restaurant that serves homemade pasta made from scratch each day (Yumm!); a seafood restaurant with fresh seafood flown in daily.
An Asian fusion restaurant serving dishes inspired by Southeast Asia; an Italian steakhouse featuring prime cuts of meat grilled over open flame charcoal grills.
A burger joint where you can get your favorite burger topped with anything from bacon & cheese sauce or fried eggs & hash browns (or both!) and more!
9. Bungalows Key Largo, Florida
The Bungalows Key Largo is a hotel located on a private island in the Florida Keys. It offers guests the chance to live like royalty, with all their needs taken care of by staff members who are there just for that purpose.
The bungalows themselves are situated right in the ocean and have direct access to a private beach; they also have their own pools complete with cabanas and waitstaff to bring you drinks.
If you want more privacy than simply staying at home, this is definitely an option worth considering!
10. Vista Verde Guest Ranch, Colorado
Vista Verde Guest Ranch is a luxury ranch in Colorado. It is located near Telluride, Colorado, and offers horseback riding, hiking, and river rafting.
The ranch has a rustic feel with modern amenities that make it perfect for families or couples looking for an all inclusive vacation experience.
The main building at Vista Verde has an open-concept design with high ceilings and windows throughout the property to allow natural light inside.
There are also indoor fireplaces where guests can gather around during winter months to enjoy each others' company while keeping warm at night after spending time outdoors.
During warmer months of summer or springtime temperatures may reach up into the 80s F (26 C).
There are multiple dining options available including buffet-style meals served family style each day; ala carte menu items including prime rib dinners on Friday nights; gourmet breakfasts featuring eggs benedict every morning except Sunday when they serve brunch instead.
Afternoon snacks are served daily between 3 pm – 5 pm where you can choose between freshly baked cookies/cakes along with other goodies such as cheese sticks & grapes which were delicious!
11. Skytop Lodge, Pennsylvania
Skytop Lodge is a Pennsylvania resort that offers all inclusive vacation packages. The resort has a spa and golf course, making it the perfect option for families looking to get away from the hustle and bustle of everyday life.
The Skytop Lodge also has a variety of rooms to choose from, so you can find something that suits your needs perfectly. If you need some relaxation time after exploring all day long, their spa offers massages and other treatments at an affordable price.
Or perhaps you would prefer an activity-filled day? In that case, check out their many activities including hiking trails or even horseback riding!
If none of those sound good enough for you then there's always dinner at one of their restaurants (yes plural!). Whether it's breakfast time or late-night snacks – this place has got your back!
12. Mohonk Mountain House, New York
Located in New York's Hudson Valley, Mohonk Mountain House has been consistently ranked as one of the best resorts in the world.
Nestled near the Hudson River and the Catskill Mountains, this historic property offers guests an all inclusive experience steeped in natural beauty and luxury amenities.
The property boasts an on-site spa with steam rooms, saunas, massages, and facials; a golf course with stunning views of Lake Minnewaska; hiking trails through woodlands filled with birdsong; fine dining or casual dining are available.
also, has an indoor pool overlooking mountainside panoramas and tennis courts.
13. Castle Hot Springs, Arizona
Castle Hot Springs is a secluded resort located in Arizona. It was built in 1868 as a luxury hotel but converted to a sanitarium in 1906.
Today, it's one of the most luxurious resorts in America and offers a unique experience that can't be matched by other hotels or resorts.
The resort has only 47 rooms available for guests to stay at while they are there–which makes it feel like you're staying at an exclusive getaway without being too isolated from everything else going on around you.
The grounds are gorgeous, including two pools (one indoor and one outdoor), hot springs mineral water baths available throughout your stay at no extra charge, and various hiking trails through desert vegetation or mountainside views depending on which direction they take you on their tour.
Castle Hot Springs even has an off-site spa where therapists offer massages tailored specifically for what type of treatment each guest needs most!
Travelers Tips and Money Saving Tricks
The first step in your all inclusive vacation is to book your flight. You can save money by booking it in advance, as well as earn rewards points for future travel.
Pack light! Airlines charge hefty fees for overweight bags; pack only what you need in one carry-on bag so that there are no surprises at check-in (and also so that you don't have to wait in line). Also, you'll want to bring clothing and accessories appropriate for your destination
A little planning goes a long way when it comes to saving money on flights–think about where your trip will take place during peak season when prices tend to rise quickly due to high demand; if possible, choose off-peak dates instead!
Be flexible with your travel dates. If you can't find the perfect flight, consider changing when you leave or return by a day or two. It may not seem like much, but these small changes can make a big difference in price!
Bring a camera to capture those once-in-a-lifetime moments
Then comes car rental: If you plan on driving around town or taking day trips from the resort, this will be necessary. You may also want to use public transportation if there are buses or trains available nearby. Find the best car rental deals with our partner Discover cars!
Where to Find The Best Flights
The best way to find the best flights is by doing research. You can check flight prices, times, and routes as well as duration and status.
You should also look at reviews of your chosen airline, their baggage restrictions, safety records, and more before making a decision on which one to book with.
We always recommended WayAway, this is a travel website that allows users to compare different airlines' offers in order to find the best deal possible!
The best part is they are typically cheaper than other websites and you can get cashback!
Vacations That Are Not Just For Adults
All inclusive vacations are not just for adults. Kids can enjoy all inclusive vacations, too!
All inclusive resorts often have activities and entertainment geared toward kids so they don't feel like they're missing out on anything.
The staff at these resorts is trained to care for children and keep them safe, which means you don't have to worry about leaving your little ones unattended while you go off on an excursion or try out one of the resort's restaurants.
Many All Inclusive Resorts Offer Child Care Programs.
Most all inclusive resorts offer childcare programs. These can be a good option for parents who want to relax and enjoy their vacation, but still have peace of mind knowing that their children are being taken care of and entertained by qualified staff.
There are typically child care fees, theses fees vary based on the resort and the type of service you choose, but generally speaking, they are not free at most resorts. Your options include paying per hour or paying a flat rate per day (or week).
The best part is the flexibility; Most childcare programs allow parents to drop off their kids early in the morning so they can enjoy breakfast together before it ends at 10 am or 11 am each day; pick-up time varies depending on your choice of the program but usually doesn't start until 1 pm or 2 pm (or later).
All Inclusive Vacation In United States Wrap Up
All inclusive vacations are the best way to experience all that the United States has to offer. From the beaches of Florida to the mountains in Colorado, there is so much beauty in this country that it can be overwhelming at times.
That being said, if you're looking for something specific or have a budget for your next vacation then we hoped that this list inspired you to take that dream trip!
If you need help booking a flight let us make it easy, by letting us search multiple flights for you to get the best deal! Search here!
Other Dream Vacations: